I hope you had a chance last week to pick up this month's book, "The Girl on the Train" a novel by Paula Hawkins, and start digging your nose into it. The reaction to the book selection has been overwhelmingly positive!
This week we are talking about Rachel's alcoholism in "The Girl on the Train" as it unravels in the first chapters. What do you think is the first sign that Rachel is an alcoholic?

They are many clues in chapter one–no one right answer–but for certain it's clear by the time that Rachel passes out from drinking a bottle of wine with blood dripping from her finger and leaves an uncooked steak on the kitchen counter that she has a problem. Here are a few of your responses and first clues:

#DKBookClub – Chapter 1 Q:
What was your first clue Rachel is an alcoholic? #DigInWithDarren

— Darren Kavinoky (@DarrenKavinoky) June 3, 2016
Ok yeah she has a problem 😂 all she drinks is booze .. Up to ch12 it's a good book #DKBookClub @DarrenKavinoky

— Debbie❤️ (@blindbiotch) June 3, 2016
@DarrenKavinoky page 5 (in hardback copy) when she points out how it's unacceptable to drink alone on a Monday. But I wasn't sure yet.

— BellCindyM (@BellCindyM) June 3, 2016
Chapter Two took us back a year and into Megan's point of view. Unable to figure out her life course, her husband seems to be very supportive and understanding. When she can't hold down the nanny job for more than a few days, how many of you started to think perhaps something is amiss with this character? By the time Megan is in her therapist's office where she should be talking about her brother Ben, yet she seems more interested in her therapist's "wolfish smile," we realize she is stock full of issues.
Things heat up in the last scene of Chapter Two, when Megan says "our eyes meet for just a second and he smiles at me" [pg 27]. Even though we have no idea who "he" is, at this point the book takes off and begs you not to put it down.
When you turn the page to start Chapter Three, Rachel's alcoholism is confirmed as is more than one affair…
See you between the pages!
Your friend,
Darren Kavinoky, Esq.,
#DKBookClub Info
If you haven't officially joined the book club yet, what are you waiting for?
Hashtag your #DKBookClub feedback, thoughts and theories with #DigInWithDarren.Even if you have already read the book, feel free to jump in on the discussion this month as we go along.
The Girl on The Train Movie
The Girl on the Train movie comes out this October 2016 and you can watch the film trailer featuring Emily Blunt here:
Friendly reminder to keep our online chats friendly!
Book Club Questions
As always, if you have any book club membership related questions, please address them to my media team at bookclub@darrenkavinoky.com.
Where can I buy The Girl on the Train by Paula Hawkins?
This book is available online in Paperback, Hard Cover, and Audiobook via the links below. NOTE: DarrenKavinoky.com is not affiliated with these links, sites or their services in any way.)
Visit: http://paulahawkinsbooks.com/
The Girl on the Train free Kindle book preview via Amazon
Also available at:
Barnes and Noble
iTunes
The Girl on the Train on audio book at Audible.com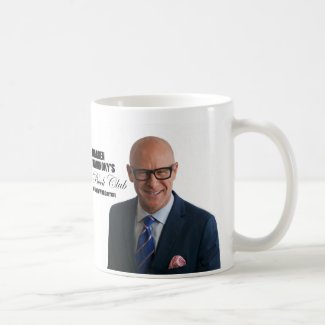 Darren Kavinoky's Book Club Coffee Mug by DarrenKavinoky
Join the May 2016 Darren Kavinoky Book Club conversation:
Twitter  http://www.twitter.com/DarrenKavinoky
Facebook http://www.facebook.com/DarrenKavinokyFanPage
Latest posts by Darren Kavinoky
(see all)